About Us
Tucked away, just a few metres from designer stores, buskers and throngs of shoppers, St Teresa's is a haven of serenity. When you're in here you don't imagine you're anywhere near Grafton Street, Dublin's premier shopping street.
The church has seen plenty of changes through the centuries. 2015 was the fifth centenary of St Teresa's birth. When the Discalced Carmelites, led by Fr Paul Browne, first arrived, in 1625, they had to set up church in Browne's mother's house on Cook Street, saying Mass in the front room. Four years later the civil authorities shut down all chapels – but the order just moved to another part of the city.
They gradually made their way from the Liberties towards Clarendon Street, battling increasing rents, unscrupulous landlords, the Penal Laws and a lack of funding, to finally move into their own church and monastery in 1797.
Once there they played a key role in the Catholic emancipation movement, allowing Daniel O'Connell to hold political meetings in the chapel between 1813 and 1829. O'Connell was a friend of the friars, particularly Fr John Francis Lestrange, whom he chose as his confessor. Lestrange also took on the position of secretary of O'Connell's Catholic Association group, which campaigned for emancipation.
St Teresa's continued to keep an interest in politics into the late 19th century. It dared to hold the funeral of a Fenian, Charles McCarthy, in 1878. At the time the local church authorities had condemned Fenianism and declared all its members excommunicate.
The friars pressed ahead with accepting his body but managed to avoid all-out confrontation with the archbishop by holding the funeral in a hall off the main church, not the church itself, thus getting around canon law.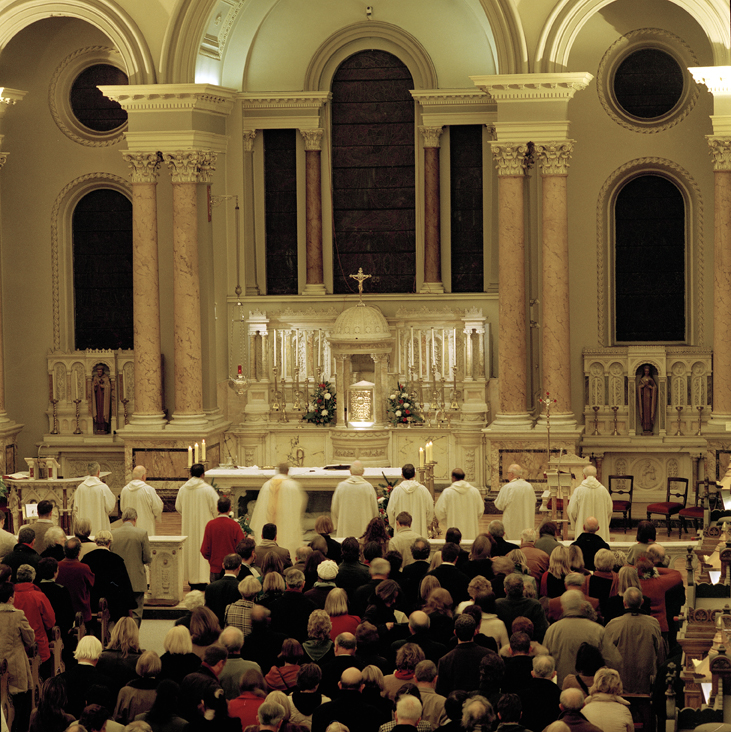 It was during Fr Christopher Clarke's first term as prior that St Teresa's decided to livestream its Mass. "Some of the friars' relations in Australia tune in, and when it breaks down we get calls from America telling us to fix the camera or asking what's wrong with our livestream. We have people watching in from around the world. We started about 3 years ago. For people who are housebound, and who have an attachment to the church, they are able get it at home, which is great."
Choirmaster
St Teresa's employs about 20 part-time and full-time staff, between the office, its public cafe, the repository, cleaners, security and the friars' cook. They also have a full-time choirmaster; the church is well known for its music under the direction of Ronan McDonagh, who has worked there for more than 20 years and keeps alive the tradition of a classical Mass.
For him the shift away from the dominance of the church in people's lives has opened up a new challenge in his work. "I think a generation ago a lot of people knew some hymns from school, so it was a case of what people knew. There's a certain disconnect from what the younger people know now, and so there may be a chance to develop a new type of music. Most of my work in the afternoons would be writing the church music, setting the music for solo singers and choirs, and I hope that's a way of bringing new life to it for people."
The Church
This is a lovely haven of peace and tranquility in of a very busy and noisey shopping street. To enter this church is to leave behind the hustle and bustle of the nearby street behind, and enjoy a time spiritual refreshment and rest. The Church is mapped out below with several iconic stations which should not be missed.